20 october 2009.

At the collagepage there are 22 pieces of art now!

Here a recenty finished collage, made by 3 HAA-artists.
18 september 2009.

The new page 'collages' at this website is fact from today. Now there are 15 artpieces on it, but without doubt there will be more.

They were and are not only made by myself, but also in co-operation with other artists. The project 'Pieces', in which the 4 HAA artists work together, is an important part of it. This project is still going on.

The page shows collages in different techniques: paper, digital and mixed media. Here an example of a digital collage (print 45 x 60 cm):



30 august 2009.
'Pieces' is a project in which the 4 HAA artists work together.
Before this they only worked individually: in different styles, but whit a similarity in technique:
They cut a whole thing into pieces of which a new work of art is made.
From this similarity in technique there grew an idea to make pieces of art together, from loose
elements, parts (pieces). With surprising results, new pieces of art, made toghether.
Mostly collages. These are soon to be seen at the the new page 'collages' of this.
Here you see 2 newly finished pieces of art: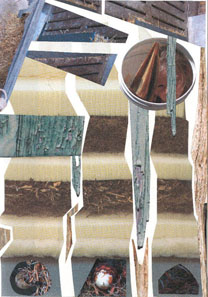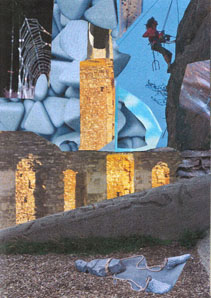 21 june 2009. The project 'Pieces' continues...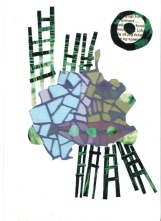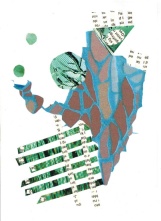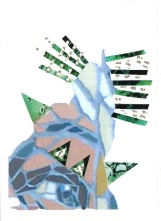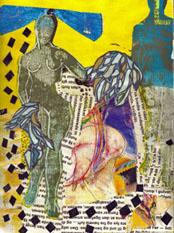 20 march 2009. Start of the project 'Pieces' ...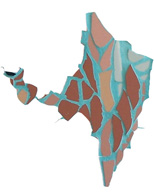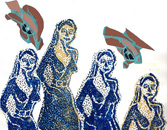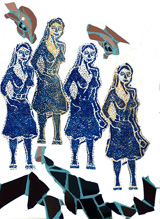 1 january 2009. A prosperous, creative en very happy new year!!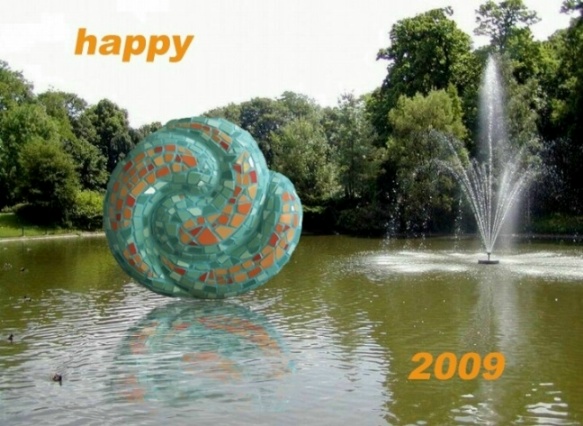 17 october 2008.   Here you see the first pictures of work from the 4 HAA-artists. Work from Roland van Balen
and Martha Marjenburgh is already shown earlier. Therefore now we show pictures of work of the other 2 artists.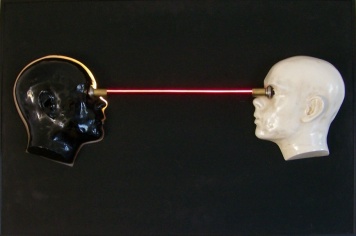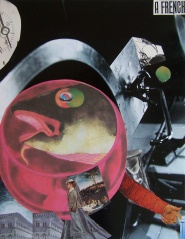 Joey van Balen Lilian Hedegaard
20 august 2008: FOUNDATION OF HAA !

Haa is a group of Dutch-Danish artists, founded in Helsingör, Danmark. Each of them has an own individual style. What they have in common is their intractabillity and their need to be compared to no-one else, no artstyle or -movement.

Thought their style is different there is a similarity in their technique. They cut a whole thing into pieces of which a new work of art is made. Lilian Hedegaard does that in her collages, Martha Marjenburgh in her mosaics and Roland van Balen cut some of his large paintings into small ones and composes new works of art of them. Recycling in art? That's what you could call it. His brother Joey however is less analitical, but he uses former used materials.

The letters Haa stand for Helsingör, Almere, Amsterdam, the residences of the 4 artists. Joey van Balen was born in the Netherlands, but meanwhile he lives the largest part of his life in Danmark. But also he stays in Amsterdam sometimes. Lilian Hedegaard was born in Danmark, but finally she started to live in the Netherlands, at first in Amsterdam, later in Almere. Amsterdam is the residence of Roland van Balen (brother of Joey) and Martha Marjenburgh. Roland van Balen lived and worked in Danmark in the seventies, but afterwards and up to now he choose the Jordaan in Amsteram to live and work. Martha Marjenburgh was born and raised in Amsterdam. Through Roland van Balen she got to know his brother Joey and later Lilian Hedegaard. During a collective stay in Danmark the foundation of Haa took place. The 4 artists regulary travel up and down between the 2 countries. In 2009 they will exhibit together for the first time.
18 mei 2008, DISCOVERY OF PHOTOGRAPHYCAL ART!!

During the event Open Ateliers Jordaan there was an unexpected lot of interest in my photography.
De first 2 pictures under here (the prunes and the cactus) were shown at the exhibition in the Fatih Moskee in Amsterdam.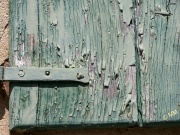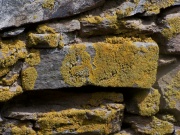 All these pictures, with exception of the last one up here, were taken in the south of France.
The photo's are printed on aquarel paper. There was absolutely no trickery ("photoshopping") committed to the pictures.
De last picture, "Footsteps", was taken in Amsterdam. The footsteps on the print are drawn by hand with acrylpaint.

10, 11 and 12 may 2008, Whitsun weekend: Open Studios Jordaan.
AND EXHIBITION IN MOSQUE!

Roland van Balen and Martha Marjenburgh are taking part again to the Open Atelier Route at the address Looiersgracht 12 II. They are 2 of the 70 artists who have their studiodoors wide open these days, from 12.00 - 18.00 hours.

But that is not the only thing. From the 70 artists, there are 14, who exhibit work in the Fatih-mosque in Amsterdam. Among them are also Roland van Balen and Martha Marjenburgh. It is the first time that a mosque in the Netherlands allows art. In the most mosques images are forbidden. On the artworks in the Fatih-mosque no portraits are shown, only abstract works and landscapes.

And there is a Central Exhibition again, at the same place as 2 years ago, in Dance Street.
For more information: www.openateliersjordaan.nl


20 april - 17 may 2008: ART IN THE SWIMMING -POOL! (click at the pictures for enlargement)
In the context of Open Ateliers Jordaan 2008, an event to which 70 artists are going to participate the next Whitsun Weekend,
a number of them (20) is showing art in the Marnixbath. Among them are Roland van Balen and Martha Marjenburgh.
In 2006 the completely renovated Marnixbath was opened. It is now called 'Het Marnix' and apart from two swimming-pools
it covers a large number of accomodation spaces, among which a vast and agreeable café-restaurant, named 'Zink'.
That is where the exhibition takes place.
The theme is: "NAT & DROOG" (wet and dry).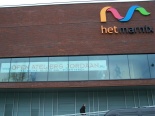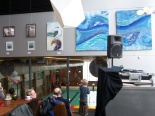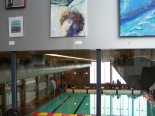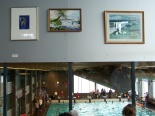 Address: Marnixplein1, Amsterdam.
'Zink' is open: Mo. - friday 9.30 - 24.00 hours. Saturday 9.30 - 21.00 hours. Sunday 10.00 - 21.00 hours.



This poem is a so-called "Onzijn", (no word in English for it, sorry): An eleven-lined poem, consisting of 3 terzines and a distichon.
The rhyme-scheme is a linked rhyme: abc-bcd-cda-ee.

In 1983 this form of poetry was invented by Drs. P.,a Dutch poet-songwriter, who is very well known in Holland for his special style
of poetry. Drs. P. wrote 4 bundles with "onzijnen":
Tientallen Elftallen (1985)
Dozijnen Onzijnen (1998)
Mijn reis met Dante door de hel (2003)
3x3+2 (2006)

I find it a tremendous invention. Also very suitable for the style of Martha Majeur.
For certain she will express herself more often by making an Onzijn.


There was a man whose teeth got stuck
because of failing luck
His dentist had a lot of work
to repare all this mess
So don't be stupid, be no jurk
to wait for happiness

© Martha Majeur, 21 february 2008

Illustration: Roland van Balen
1 juli 2006
For the whole piece of art:
go to the page 'paintings'


detail van 'big nose'



For the whole piece of art:
go to the page 'sculptures'


detail van 'flexible towers'
Whitsun Holiday Weekend:
3th, 4th, 5th of june

OPEN ATELIERS JORDAAN 2006, ART ROUTE

70 artists have their studio open among who Roland van Balen en I. Our work can be seen at my home/studio: Looiersgracht 12 II

On the right: one of my latest works

Also go and see:
Dancestreet, Eerste Rozendwarsstraat 10
There is the Central Exhibition
where from each artist one work is shown.

Studio's and Central Exhibition are open: 12.00 - 18.00 h.

Also look at: www.openateliersjordaan.nl l



'lost drop of hope', 60 x 80 cm
acryl op doek en lijst
23 april - 5 june 2006: Group-exhibition in Galerie Buuf, the Art Centre.

Because of the enormous success of our contribution to the former exhibition, we take part again this time, Roland van Balen and I. We show new work, not exhibited before.
The galery is open wednesday - saturday 11:00 - 18:00 h., and sunday 13:00 - 18:00 h.
Also look at www.galeriebuuf.nl.
22 january 2006. Last week the poetryvolume 'Een leger wensende wolken' (= 'An Army of whishing clouds) was published. Poems of Martha Majeur with illustrations in color of Roland van Balen.

75 pages.

Volume obtainable at Galerie Buuf and at my place, subject to stock being available.






A summer

Dry and dying the ground
But the air is humid
From fun taking tourists
And sweaty sunburn

While the farmer and his cow
Pay for supposed profusion
Eager guests are grabbing
Legitimate happiness

Yellow the grass and flowers almost black
The sad sunflowers
Hang their heads
Silently

But as the sky-blue is dying
From its ultimate dream
The rain comes

This poem is translated from the Dutch
and it is also translated in French.



15 january - 26 february 2006:
Group-exhibition in Galery Buuf, The Art Centre

With the work of 22 artists, among who Roland van Balen en I. And the poetryvolume 'Een leger wensende wolken' (= 'An army of wishing clouds') of Martha Majeur with illustrations of Roland van Balen is there to skim and for sale.

The galery is open wednesday - saturday 11:00 - 18:00 h.
and sunday 13:00 - 18:00 h.

At the site www.galeriebuuf.nl more of our work and of 83 other artists is shown.





| | | | |
| --- | --- | --- | --- |
| 25 december 2005, without comment: | | | |
12 november 2005

Because Saint Nicolas is her again:
There's so much poetry on earth
For everything a poem
And everyone you know is worth
Some poetry to show him

If it's to difficult for you
I'll create on request
Tell me some facts and what or who
And I will do the rest

I offer you my poets skill
A poem I will send
And you receive a tiny bill
Each word 10 eurocent
30 september 2004

My work is also exhibited digital at:
www. artolive.nl

Here some new work,
a co-production of Roland van Balen
and Martha Marjenburgh :

'warrior', 20 x 30 cm,
pasteldrawing




'chairman', 20 x 30 cm,
pasteldrawing

'orang', 20 x 30 cm,
pasteldrawing
12 june 2004
--------------------->
Part of my work is exhibited the next month at: Galerie Witlov,
Looiersgracht 12, Amsterdam

3 may 2004

After my former computer died, I bought myself a new one and everything is more or less installed, it is about time for something new on the surprisepage. This painting I completed some months ago::



'writing on water', oil on canvas, 60 x 80 cm
4 january 2004

Saint Nicolas is long gone, so is Santa Claus and the new year is already 4 days old. Hereby a (remodelled) product of the slides I made in the summer of 2003:


17 november 2003

A Saint Nicolas surprise!

Until the 5th of december I made for you a free Saint Nicolas poem on request!


Saint Nicolas is a poet
For everyone he knows
He always likes to show it
But now his caseload grows!

He needed some assistance
To save himself some time
He asked me with persistence:
Will you help me to rhyme?

I said yes and I'll show him
That I can rhyme and how
So if you want a poem
I'll make it for you now

For someone to remember
Mail me for who and facts
And up to 4 december
You'll get my rhymed reacts!
12 october 2003

Some of the watchers among you might be waiting for a slideshow of the slides I made this summer. Alas, I have have to dissapoint you (for now). I am not a good fotographer, I think. Not good enough for internet, that is. But the writer in me produces a poem today:
To all my lovers from ago


To all my lovers from ago
Sometimes I hurted them I know

And I was hurted too a lot
Though unknown happiness I got

But far to often it went by
The love was gone, just tears to cry

I wish my lovers all could last
It went to fast, it went to fast


Martha, 12 october 2003

8 october 2003

Look, only one day passed, and another surprise is there!
Within a number of days the next surprise is coming, and I assure you: That is really something new!

This is the eleventh surprise

'The line of the story'
acryl on panel, 30 x 124 cm
7 october 2003

It took a while, but now
several surpises are coming.
Tomorrow another one!

This is the tenth surprise:

'What did they talk about'
acryl on panel, 60 x 80 cm
8 august 2003

The nineth surprise
Me on holiday with a riding caravan, never shown before.
So something had to be done to unite the 'common' with creativity,
so .... I painted the door of the caravan.


6 june 2003

The seventh surprise


Seen on the door of a toilet:

'Wrong men are never boring,
for that they do not stay long enough'
| | |
| --- | --- |
| 25 may 2003 The sixth surprise: again a acrylpainting | 'grass-duck', 30 x 45 cm, acryl on panel |
25 may 2003

The next surprise: another acrylpainting



'optimist', 80 x 60 cm, acryl on panel
11 may 2003

The fifth surprise: my newest painting)



'come on, birdie', 60 x 60 cm, oil on canvas
27 april 2003

The fourth surprise is not that big:
my birthday
I want to thank everyone who attended my party last night:
Adinda, Aida, Andrea, Ans, Babet, Carla, David, Ellie, Gerdin, Hans, Jan, Jasper, Johan, Joke, Joop, Josephine, Kees, Lieke, Lots, Louis, Lucia, Marjan, Mary, Niels, Wijnand.
20 april 2003, Easter

The third surprise: an eastermessage.
13 april 2003

The second surprise: a ceramic sculpture.
I modelled it in 2001, glazed it in 2002
and put it on photo in 2003.

'mating birds'

12 cm high, ceramics
6 april 2003

The first surprise: my last produced painting.

'cormorant', 60 x 80 cm, acryl op paneel